Chad Brownstein is dedicated to making a difference in his local community. Although a Denver native, Chad has become an active participant in his adoptive Los Angeles Community, supporting many local charities and community organisations.
Below are some of the charities that Chad Brownstein actively supports:

Cedars Sinai Hospital


Since its beginning in 1902, Cedars-Sinai has evolved to meet the healthcare needs of one of the most diverse regions in the nation, continually setting new standards in quality and innovation in patient care, research, teaching and community service.
Today, Cedars-Sinai is widely known for its national leadership in transforming healthcare for the benefit of patients.
Chad currently sits on the Cedars Sinai Hospital Board of Governors
Jewish Big Brothers Big Sisters

The mission of Jewish Big Brothers Big Sisters of Los Angeles (JBBBSLA) is to assist youth in achieving their full potential through innovative, impactful programs that facilitate lasting mentoring relationships and support positive development.  JBBBSLA runs community-based mentoring programs, offers college scholarships, and owns and operates Camp Bob Waldorf on the Max Straus Campus, a 112-acre residential camp and retreat center in the Verdugo Hills of Glendale.
Chad has been active supporter of Big Brothers Big Sisters for over a decade

Race to Erase MS is dedicated to the treatment and ultimate cure of Multiple Sclerosis. Funding research is the core focus of the Foundation and all funds raised support our Center Without Walls program, a selected network of the nation's top MS research centers. This nationwide collaboration of physicians and scientists are on the cutting-edge of innovative research programs, working as a team on therapeutic approaches to eradicate MS. In addition to combating MS through research in a clinical environment, we hope to increase awareness by educating the public about this mystifying disease.
Chad has been active with the Race to Erase MS for over 20 years

Our primary mission is to provide at-risk young adults and school-aged youth with opportunities for success through job skills training, education and work experience with an emphasis on conservation and service projects that benefit the community.
Chad was a former board member of LA Conservation Corps, and has chaired multiple annual capital campaigns

Founded by Callae Brownstein in 2012, CBeyondcancer's mission is to partner with and fund organizations that help families see beyond emotional and financial obstacles to focus on fighting cancer. Our ultimate goal is to help cancer patients and their families build their inner strength and fortitude during a time of tremendous adversity where they can focus on healing instead of other obstacles. CBeyondcancer does this by supporting organizations that fund emotional support services and provide direct financial assistance to patients and their families. Since its inception, CBeyondcancer has raised nearly $325,000 for families struggling with cancer.
Chad is an active adviser to C Beyond Cancer and helps with program allocations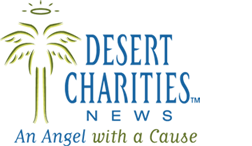 Our new partnership with Humana and the Clinton Foundation has made it possible for us to continue making a huge difference in the lives of so many individuals here in the Coachella Valley.